Virtual Event Pricing: 6 Options to Try Out
---
Putting a price on your experiences was hard enough even before events had to pivot online. Nowadays, there are so many ways you can package and charge for your events that it can become overwhelming.
As such, we wanted to offer some ideas we've seen put to use by seasoned organisers to help you with virtual event pricing.
The six options we'll look into are:
Early Bird & per-day pricing
Free to view live, paid access for on-demand recordings
Free conference content plus paid workshops
Pay if you like
Individual and team tickets and
Donation-based pricing
1) Classic Early Bird & Per-Day Pricing
It may seem unbelievable, but some things don't have to change under the new normal in the events industry.
Both examples below make use of Early Bird ticket rates to reward participants who buy access to their events well ahead of time. Another familiar tactic seen below is providing an option for attendees to either purchase access to one day of sessions, or both, at separate rates.
The Ecommerce Design Summit pulls together the world's most innovative eCommerce platforms, to discuss Product Design, UX and Strategy, and is run by Tech Circus.
Below they make use of both tactics: Early Birds, and day-based pricing.
SmashingConf Live is a smashing, friendly online conference on front-end & UX.
For their virtual debut, the team behind it have chosen to simplify a little, thus offering Early Bird and Regular price options.
CascadiaJS is usually the premier JavaScript conference in the Pacific Northwest but thankfully, its online edition will be available to all JS enthusiasts.
The team behind this event have made a small addition to the Early Birds and standard tickets we've seen in the previous two examples. They also offer Late Bird option, however choosing this means you'll miss out on their delightful offer of a Goodie Box shipped directly to you as a participant.
It's worth noting that they also have workshop options:
But we'll talk a bit more about this option in a later section.
2) Free to View Live, Paid Access for On-Demand Recordings
This virtual event pricing option sees organisers offering free access to the some main conference content, and paid access for all of their sessions on-demand after the event has finished.
Featuring over 80 sessions, MDMC was recommended as a top marketing conference by Forbes last year.
In the example below, they're offering access to seven breakout sessions each day — the conference takes place over two days — and unlimited access to all 80 sessions on demand for $99.
3) Free Conference Content Plus Paid Workshops
This option is quite distinct from any we've seen before for in-person events. It's reminiscent of a popular conference option for in-person gatherings wherein organisers charge less for a standard ticket for keynotes, and more for access to additional tracks and sessions.
Alongside their, as always, informative and practical schedule, HashiCorp (the folks behind HashiConf) have some new in-depth additions for their online conference-goers.
As displayed below, they're providing additional in-depth, 90-minute workshops which they're charging for in addition to their free content. Led by product experts, these specialised sessions present a real value-add for the team and the participants.
Another example of pricing your event around additional workshop content is available here, this time from the team behind Codeland. As well as offering a full day of talks focused on Open Source and the software development community, they've decided to provide an optional day of workshops for just $25 for those interested in a more heavily practical experience.
4) Pay if you like
Instead of just offering a paid day or set of sessions, the team behind the Tech Inclusion Global Summit have facilitated a pay-if-you-like option.
Usefully, they share how this money will be put to use — in this case, to keep their mission alive and help them to produce future events — encouraging those with the means to chip in to help them keep providing quality experiences to their audiences.
5) Individual and Team Tickets
HalfStack have taken a traditional approach to their pricing, but not to their programming. As you may have seen offered for an in-person event (or many) in your time, they've offered a standard ticket for one individual, or a combo ticket for 11 people, with 10 tickets paid, and one free due to the numbers in the order.
This kind of offer is a great opportunity to attract and reward teams who want to get involved en masse with what your online event involves.
6) Donation-Based Pricing
Instead of just one donation option, Container Camp have opted for two. As well as this extra mile, they've taken another, and are donating 100% of the proceeds to COVID-19 relief.
The two tiers they've developed cater to different individuals in their audience as they've split them between Professional and Community offerings.
The option here illustrates the importance again of showcasing what your funds will be used for (even if it's honestly just profit to help you to produce additional events or shows) and who the tickets are for, as well as an understanding that different members of your community have different abilities to pay certain prices.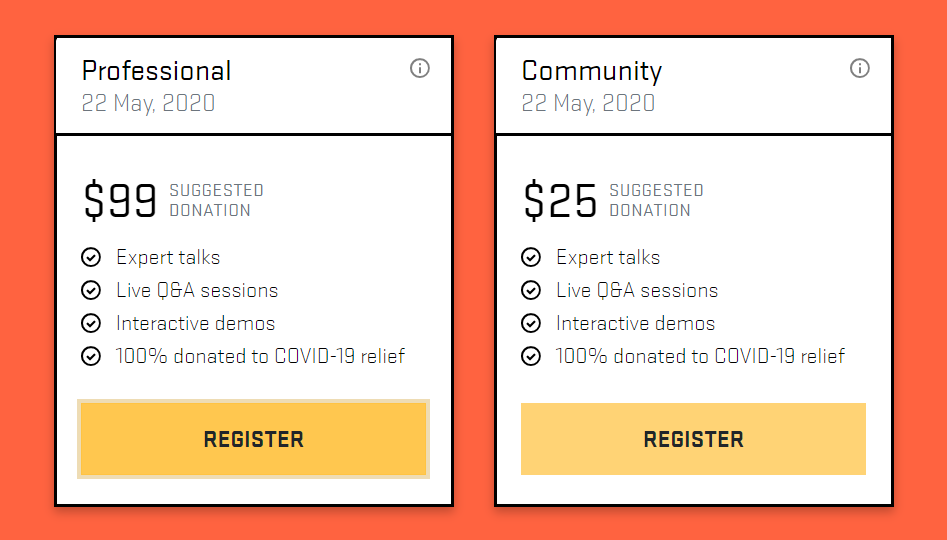 UIKonf have taken a similar approach to their virtual event pricing. However, they've opted to give a flat price for their remote conference ticket, with the option to pay a little (or a lot!) extra to help their business continue to provide exceptional experiences.
They also offer additional ways to support the conference; a participant can choose to donate directly to the UIKonf organising pool, a diversity scholarship for a potential participant from an under-represented group, and they offer a sponsorship option to those who can afford to contribute even more.
While it can be hard to put a dollar value on the worth of an experience you've put so much effort into, I hope this post has helped guide you with some options to discover what will be the best fit for you.
If there are any options you've been experimenting with, or that you've appreciated as a participant, we'd love to hear your thoughts on Twitter.
Until then, happy organising.