Basic SEO for Event Pages
---
Search engine optimisation (SEO) is one of the most contentious parts of digital marketing. 
People are often put off by SEO because of a few misconceptions:
SEO is too technical for a "normal" person to get right
SEO takes too much time and doesn't yield results quickly enough, so it's not worth the work
SEO is too complicated and everyone contradicts each other's techniques.
Admitedly, there are over 200 facets of a website that Google looks into when deciding what rank to allot your pages, but everything, no matter how complex, can be simplified to be workable.
Then again, depending on your experience, ambition and available time, you might want to up the ante in terms of SEO strategy complexity, but I want to flag now that this is a post for those who are new to SEO and who want to be able to get some results with minimum effort. So, if you're not a beginner, my apologies for potentially telling you some stuff that you already know. 
(To see our new post on how to implement these tips, click here.)
While I'm never going to pretend that these are quick fixes that will skyrocket your organic traffic and conversions, they are useful for identifying some areas where you can optimise your event pages that will at the very least do more good than harm, and that don't take a tonne of time to implement:
Choosing Keywords
No matter what you're trying to rank for, you may rank for it, and it may be useless.
This sounds harsh, but keyword research is to SEO as distribution is to content marketing; you can do everything right and create something compelling, but it might be the case that no one ends up seeing it. 
I won't delve too deeply into the science behind keyword opportunities. Instead, here's the methodology that simplifies the process as much as possible:
What you'll need:
Answer the Public (free, but paid for localised results)
KWFinder (freemium) or Wordtracker (freemium)
Answer the Public is a tool that gives you long-tail keyword suggestions based on a short-tail keyword based on what users search around that phrase. 
For example, if I were to try to get this post to rank for "SEO", it would be a blunder because a) there are so many variations of posts about SEO that are specifically about what SEO is that it would be very, very hard to get it to come up on the first page of Google and b) I haven't written this post for people who want to know what SEO is. I've written it for event organisers who want some easy steps to improve basic SEO for event pages. 
Instead, I've written it, obviously, to be findable for people who are looking for "basic SEO for event pages."
To find which variation of a keyword is best for what your event is about, you can use this approach:
For sake of argument, let's say that your event is about new technology. In that case, I would use the Answer the Public search functionality to look for keywords that contain "technology event":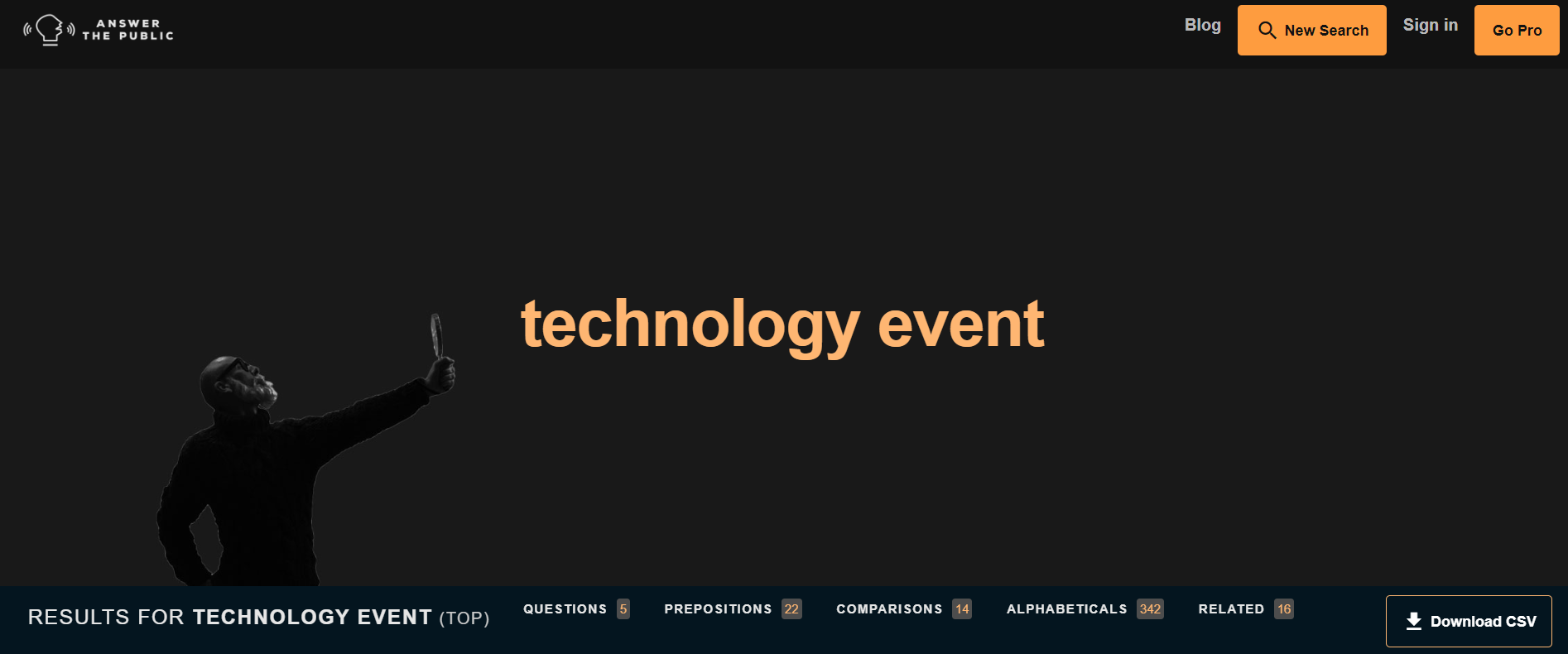 The results come in a variety of forms:
Questions
Prepositions
Comparisons
Alphabeticals and
Related
I tend to give more weight to the first three types of result as they tend to take the format of how people search on the web for event-related topics. 
In the above screenshot, we see that there were only eight questions related to Questions in this search, meaning we have very little to choose from this section. Instead, we should look to the Prepositions section which has a much more satisfying 22 results:
As often happens when I do this type of research, a trend emerges here. Those searching for information about technology events are either a) looking for them in a specific location or b) looking for a list of events by date (year, in particular.) 
While Google now, providing it's authorised to know your location, will automatically tailor results to your locale, if you're not from or in that  location at the time of your search, you'll want to tailor the results you see to where you want to attend the event or conference in question.  
As such, it's still pertinent that event organisers consider adding their location both in writing and via a maps service to their event pages where possible.
But, once you choose a keyword, or a variation of it, how do you see which option is best for you?
Enter: KW Finder
KW Finder gives pretty detailed analysis of search volume, difficulty, and other URLs ranking for the keywords you want to go after, but it can get a little pricey. You get two free result queries per 24 hours (hardly ideal when you're researching and want to test variations) and then you have to swap to one of their plans which are billed annually and start at €310.80 ($363.41).
Wordtracker gives you comparatively more valuable information in its free plan. The free plan limits you to three separate searches, rather than two results from the same search. It also shows you the ten most popular, similar searches by volume. It also offers CPC info and competition (though this tool doesn't break down the significance in as much detail as KW Finder.)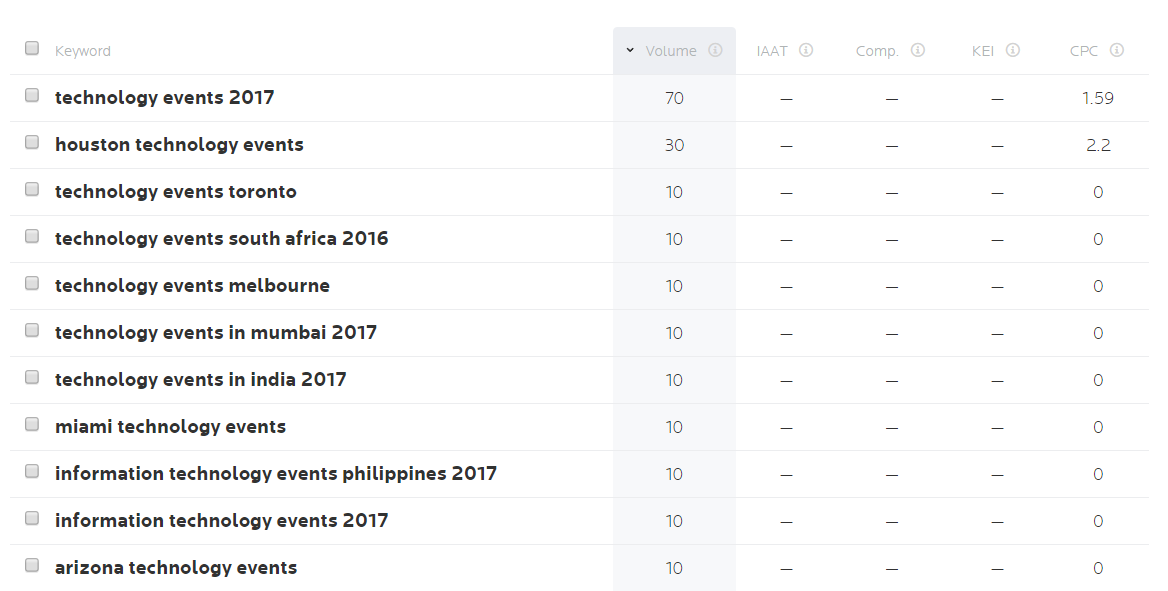 The usefulness of tools like this is that you can then choose a keyword for your event page based on how many people are actually looking for it, how hard it is to rank for it, and how much you can save by building your organic ranking strategy around that keyword. 
Practically, based on this insight, we could use "technology events 2017" as our search term for the page as it follows the pattern outlined by Answer the Public, and is the search with the highest volume according to Wordtracker. 
It's important to focus on just one keyword for your event page. Admittedly, you won't want to optimise for more than that since you have…
Six Areas to Focus On
1) Title/H1 tags
Title tags show up in three different places: 
Somewhat obviously, as the title of your page on the page itself
In the browser tab for those visiting the page and
In search engine results as the clickable title
Each of these areas signify to those people who will potentially be clicking on your page or reading your page that they're in the right place if they want information relevant to your keyword, so it's imperative that you put your keyword here. 
Another important rule is that Google has a habit of cutting off the title of your post in these search results if you go beyond 50-60 characters in that description, so be sure that you keep it short, sweet, and SEO-optimised. 
2) URL
You might notice that, on this blog, there are posts (many, if not most) that have titles that aren't exactly the same in the URL of the page. 
For example, our recent post "3 of the Only GDPR Emails We Didn't Delete (and 2 We Promptly Did)" can be found at the URL https://blog.tito.io/posts/gdpr-emails.
The reason for this is that you want to avoid "ugly" or long URLs. One place where it's helpful to have short URLs (if you're not using a shortening system like Bitly) is when people share your URL on social media, among others. Further to this, having your keyword here is another signal to Google that you want to be found for this particular phrase. 
3) Body keywords
Though there's no hard rule on how many times a keyword or its variations should be used, I've found 3 to 5 instances to be a "sweet zone." Rand Fishkin said 2-3 in 2015 (I told you the industry is contentious), but this is an area where experimentation across your different events can help. The agreed metric that you should aim for is as many as you can naturally, vernacularly use on the page without having to stuff the phrase in.
Since 2013, Google has taken a more contextual approach to figuring out what an event page or other webpage is about, meaning that the keyword:other words ratio isn't as important any more, but it is still necessary if you're trying to get search engines to figure out that you want to come up when someone searches for the particular keyword you're working towards. 
4) Meta description
The meta description of a page will be most familiar as the snippet that appears under the link in a Google result:
As with titles, there is a character limit that Google sticks to which, if you are to exceed it for your event page, it will get cut off, meaning the message won't get across to potential visitors. That character limit is in flux occasionally, but the standard suggestion is 135-160 characters max.
While Google doesn't necessarily take the meta description into account, users do, and Google will parse the text and embolden keywords that are searched for. Given that not everyone will read the whole snippet and will rather scan for keywords, putting one here can only benefit the end user. 
5) Alt-tags
In a recent experiment, HubSpot upped their organic traffic by 50% just by updating the alt-tags on the in-post images hosted on their blog and making a few other, minor, technical changes to their blog setup. 
Alt-tags on a web page are descriptions used on the images on that page. By adding a keyword within the alt-tag on your event page, you're more likely to rank in the "Images" section of a Google search, thus increasing your likelihood to be found through that avenue rather than just the "All" section. 
6) Content pillars
This is a technique that I've been using for approximately 11 months now. One example of where we've seen the efficacy of this approach was when we released our recent GDPR guide for conference organisers. 
Content pillars are great if you have a more robust event or conference site with multiple pages or, better yet, a blog or news section. As the name would suggest, content pillar optimisation focuses on a single landing page (or ticket page, if you're running an event.) 
By building content around the core topic (in our case, GDPR) you can build authority on a topic, rather than just a small theme related to that topic. By linking to the core page from other, relevant pages with content on that subject, you signify to Google and your visitors that you're an authority on the issue. While this is a bit more time-consuming than the five other areas, including this approach in your long-term strategy can yield large gains in terms of organic traffic. 
We'll be adding some similar posts on more detailed approaches to SEO for event pages (and events more generally) in the coming months including how to implement these approaches in popular CMSes and marketing automation systems, so if you've felt a bit left out by already knowing all of this, our apologies, but stick with us and we'll go into more granular approaches soon.