13 Sites to Source Quality Conference Guest Speakers
---
Sourcing conference guest speakers can be quite the challenge, especially if you're trying to reach out to as diverse a pool of potential presenters as possible.
We wanted to make that a little easier and so put together this list of resources where you can find speakers on just about any topic, from just about anywhere, to suit just about every conference.
Here are the best 13 we could find:
Women Talk Design
WeSpeak Worldwide
Great Black Speakers
A-Speakers
Speaker Hub
All American Speakers
Promotivate
AEI Speakers
National Speakers Bureau
Black Speakers Network
JLA
Women Talk Tech
Gravity Speakers
Women Talk Design came recommended to the Tito team from one of our customers at Ueno, and it certainly did not disappoint. The site provides a directory of women and gender non-binary speakers who, as the name would suggest, focus primarily on design in their talks.
On the site you'll find 480 speakers to choose from (at time of writing). From there you can choose to filter to your specific needs including any custom keywords. You can also select from a dropdown of disciplines and topics within design or by specific industries. There's also an option to search by proximity to a particular location, making it an almost-globally useful resource.
As well as the directory of speakers, visitors to the site can also delve into past talks presented by the speakers to get a more holistic view of their skills, or out of general educational or personal interest.
Boasting clients like Merill Lynch and Deloitte, WeSpeak Worldwide is another conference guest speaker website with a bit of a wider range of specialist topics.
The search interface is slightly less slick than that of Women Talk Design (though, to be fair, they are designers) but it still fits the bill for usefulness. A few choice topics on which a number of their speakers present include leadership, social media, employee engagement, and organisational change.
Most presentations offered range from 60-90 minutes including Q&A. The speakers you can expect on the site range everywhere from representative of Fortune 500 companies to founders of non-profits.
As well as the site, the organisation's offline portfolio boasts additional speakers, so it may be worth a one-on-one consultation if you don't find a fit straight away.
Something to note is that this service does charge 20% of the speaker fee after booking is confirmed, but given the big-ticket keynote speakers they help organisers liaise with, it seems like a reasonable deal.
Great Black Speakers was founded in 2006 by two brothers, Lawrence and Boyce Watkins. Their mission was (and is) to tread against cultural norms to build a business that uplifts and empowers the African-American community.
They've certainly made that as easy as possible for their website visitors. A quick click on the Find a Speaker button leads you to a simple, effective search interface where you can sort speakers by:
Their name (should you already know who you're looking for),
A list of topics,
Locations,
Their availability,
And the price for the speakers' appearances.
There are even more advanced options, should you want to get really granular. Emphasising their commitment to a good user experience once again, you can find speakers based on the following characteristics too:
Speaker purpose (e.g. educator, motivator, entertainer)
Speaker identity (e.g. technologist, creative, innovator)
Who they speak best to (e.g. corporations, non-profits, associations)
And any organisations the speaker is affiliated with.
As an added bonus, Great Black Speakers also have a section on their site for people who want to become speakers that links to their sister site, Great Pro Speakers which offers online speaker training.
If your conference or event is on a niche topic, you'd be hard pressed to find a better resource than A-Speakers when it comes to filling your line-up. The site has one of the richest topic databases for professional speakers out there. From augmented reality to work ethics, there really is something for everyone.
A-Speakers also employs a team of specialist consultants to make sure the speakers available for your conference are the best fit possible. Of course, if you want to simply browse, all you need do is go to their speakers tab or enter a keyword in their search bar to start seeking out the perfect presenter.
Though the company is headquartered in Denmark, they serve clients both in the USA and Europe. As such, they help to link speakers with several thousand events a year, meaning you'll be in experienced hands should you try their services. As well as keynote speakers, they also provide links to moderators and workshop facilitators, meaning they make it easier to fill every stage, not just the main stage.
Speaker Hub is one of the entries on this list with a slightly different business model. While, of course, they help organisers to find speakers, they also provide a commission-free service for speakers who are eager to secure more opportunities to present.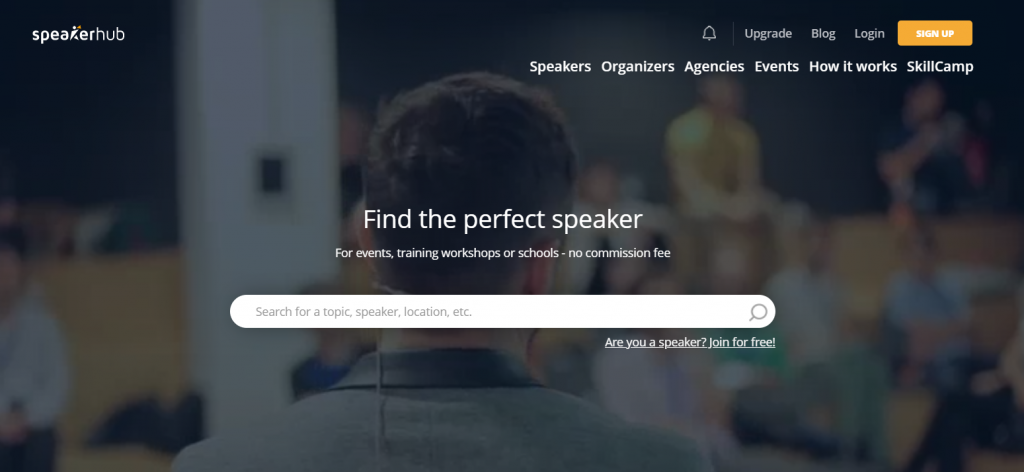 That means that anyone looking for conference guest speakers can expect an organic experience with willing and passionate individuals available to them.
They also include a range of filters on their site to help with finding the perfect person. These include:
Price range
Country and state
Topics
An option to only include speakers with recommendations or videos
Gender
Languages
And regional availability
Adding yet another helping hand, they also provide a section on the site for premium users where they can see open calls for speakers as well as a portal in which speakers can save their applications to apply to multiple events.
All American Speakers is the place to go if you're seeking a top-ticket (if you'll excuse the pun) keynote speaker.
The speakers you'll find here tend to be more in the line of household names (Amy Poehler and Aubrey Plaza for example, and that's just from the As) and, as such, their fees are higher.
But, if you're on the hunt for a celebrity to add sparkle to your proceedings, look no further. The accolades of those listed on the site range from astronauts to the aforementioned actresses.
You can also navigate the site by topic of interest with many categories there on the pulse of what society needs to hear more about, from activism to black history and heritage, to mental health. Even if the speakers here charge a little too much for an appearance to suit your budget, it's worth perusing for inspiration on subject matter alone.
Promotivate provides booking information for motivational speakers (it'd be remiss if they didn't, given the name) but there's a lot more where that came from on offer.
Location is something you can get really granular about on Promotivate, but the topic selection is something else. There are no fewer than 48 categories of speaker to choose from.
There's one little hitch though, there are more than 3x the number of men listed on the site than women, so if you're a female speaker and want some more exposure, that could be an option worth writing an email about. They do, however, have a healthy and prominent section for women in leadership.
You can also create your own shortlist by creating an account. There you can save the profiles that seem like their best suited to the conference guest speakers you're after.
As well as connecting you with speakers that you can choose from the wealth of options available on your site, AEI also provides event organising services that relate to speakers to go that extra mile to helping you with your line-up.
Speaking of that line-up, on the AEI page we again see a number of compelling speaker bios that would fit right into many industries' preferences. Of special note, there are many subcategories of education and healthcare available on the site. However, you'll also find technology, big data, and sales strategies on the list, to name but a few.
While they don't have any free speakers (and, if you're reading this or ever plan to organise an event, pay your speakers. Full stop.) many fees are negotiable. That's one perk of working with an organisation like this to source your conference guest speakers, after all.
They also have live-chat functionality on the site, meaning you can ask any burning questions you might have right off the bat.
By "national" the National Speakers Bureau here refers to Canada, meaning this will be best suited for organisers looking for conference guest speakers in and around there.
With core values surrounding curiosity, impact, and originality, it's easy to feel safe in the hands of the team behind the NSB from the get-go.
They make it super easy to find who you're looking for too by use of their simple interface seen below:

The business has been in operation for over 40 years, bringing with them a portfolio of success and well-respected speakers. As well as a comprehensive library of topics and an option to search by name, the organisation writes regularly about popular speaker themes and individuals.
The Black Speakers Network, as with the sites we've spoken about previously, provides a rich selection of conference guest speakers and beyond. However, more than a list and a way to connect with those speakers, the Black Speakers Network is a full movement.
Describing themselves as a speaker development and empowerment company, BSN is a 4,000 member strong organisation dedicated to equipping individuals with the tools they need to prosper, connect and inspire as speakers.
The directory they provide from that cohort can be broken up into several groups, and is available on their website. If you're looking for someone who fits the bill of being a talented speaker knowledgeable about entrepreneurship, leadership, and much more in-between, check this site out.
JLA is the UK's largest specialist agency for speakers, and it's gotten there through the quality of its offerings and expertise.

As well as the conference speakers we're all here for, they also offer services that provide events with presenters and performers to enrich the experiences.
In the speaker section, you'll find details about conference speakers and after-dinner speakers if you're planning something a little bit more intimate.
Something that adds a bit of reassurance to the substantial number of choices shown here are the reviews and testimonials associated with many of the speakers. As well as feedback from event organisers, agents can also leave their feedback about what working with the speakers was like. Because, after all, conference organisers will know better than anyone that anywhere you can limit stress is a blessing.
Women Talk Tech is a little more grassroots than some of the other options we've gone through. As you'll see on their About page, it all started with a Facebook post.
Since then, Women Talk Tech has grown into an organisation dedicated to nurturing female voices in tech, whether they be brand new to public speaking and presenting, or just in the market for a way to upskill.
If you're interested in partnering with them to improve the gender balance of your conference guest speakers or the event as a whole, they encourage you to get in touch on their site for a consultation.
There's something titillating about seeing "exclusive" beside a speaker's name. And that's the very thing Gravity Speakers first offer in their site's navigation.
If you're looking for a truly fresh conference guest speaker, it's worth taking a look at those listed there. As well as these highly sought-after individuals, there's much more to be seen on the site, with specialist topics covering marketing, technology and finance as well as many more.
As well as offering to link organisers up with the speakers they represent, the organisation also provides services to help you with the general planning of various stages of your event, making sure you and your speakers are ready for anything.
If you have any additional tips about similar sites, please feel free to reach out to us on Twitter. Otherwise, enjoy finding the perfect match from your now (hopefully) much larger choice of speakers.
For Further Reading: